After about 6 months of focused fundraising Badger Run was able to purchase its very own digital X-ray machine.  The machine was installed 2/13/2015 and was put to use that very afternoon for an injured Great Horned Owl with a broken wing.  This means that we can now take as many radiographs as we need, on-site, with no delays and no stressful 30 minute road trips to a vet clinic in town.  As a result, we can now offer the injured wildlife of the Klamath Basin even better care than before.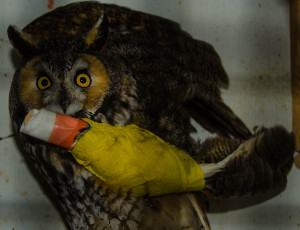 Long-Eared Owl
Here's a "patient" story that really highlights just how important this new digital X-ray equipment is for us.  On 2/15 we received an injured Long-Eared Owl with a broken wing.  We were able to immediately take an X-ray to determine the full extent of the injury.  Staff then splinted/wrapped the break and took another X-ray to check for proper bone realignment.  This next X-ray showed that the bones were not aligned.  The break would have healed, but would have resulted in a huge bone callous. This may have rendered the owl unable to fly.  A second attempt at splinting also indicated a misalignment.  But, on the third try we were able to splint the wing and VERIFY a proper alignment by radiography which gives this little owl a very good chance at a total recovery with a release back to the wild.  Without our on-site X-ray we would have had to hold the injured owl overnight (it was a Sunday), transport him 30 minutes away to a clinic with lots of dogs and cats around (increasing stress), take ONE diagnostic X-ray, splint the wing, and hope we got it right (we never could afford routine follow-up X-rays).  In this case, we know we didn't get it right on the first try!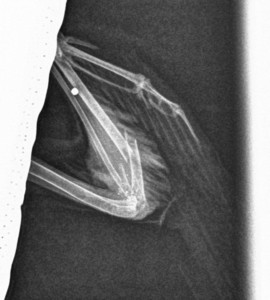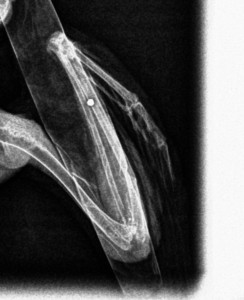 First Splinting Attempt                     Third Splinting Attempt
So here's a huge THANK YOU to everyone who contributed to this effort!  We could never have done it without YOUR support!